Progress for a Cure
Curing Rett syndrome is a challenging and ambitious goal. Through our singular focus, deep understanding of the science and long-standing experience with drug and business development, our plan to cure Rett syndrome has already borne fruit. All of the following accomplishments are the result of RSRT's vision, fierce drive, pursuit of the most promising science, and strategic partnerships with biopharmaceutical companies.
8 Biopharmaceutical Companies Working on a Cure
Transitioning scientific discoveries from academic labs to biopharmaceutical companies is critical, especially for a disorder like Rett syndrome, which has inherent challenges. Identifying treatments and a cure for Rett syndrome, however, is not considered low-hanging fruit by companies. The therapeutic strategies and resources we have launched and nurtured have incentivized biopharmaceutical companies to pursue Rett programs. In 2017 there were ZERO companies pursuing Rett cures, and now there are EIGHT, with more to come.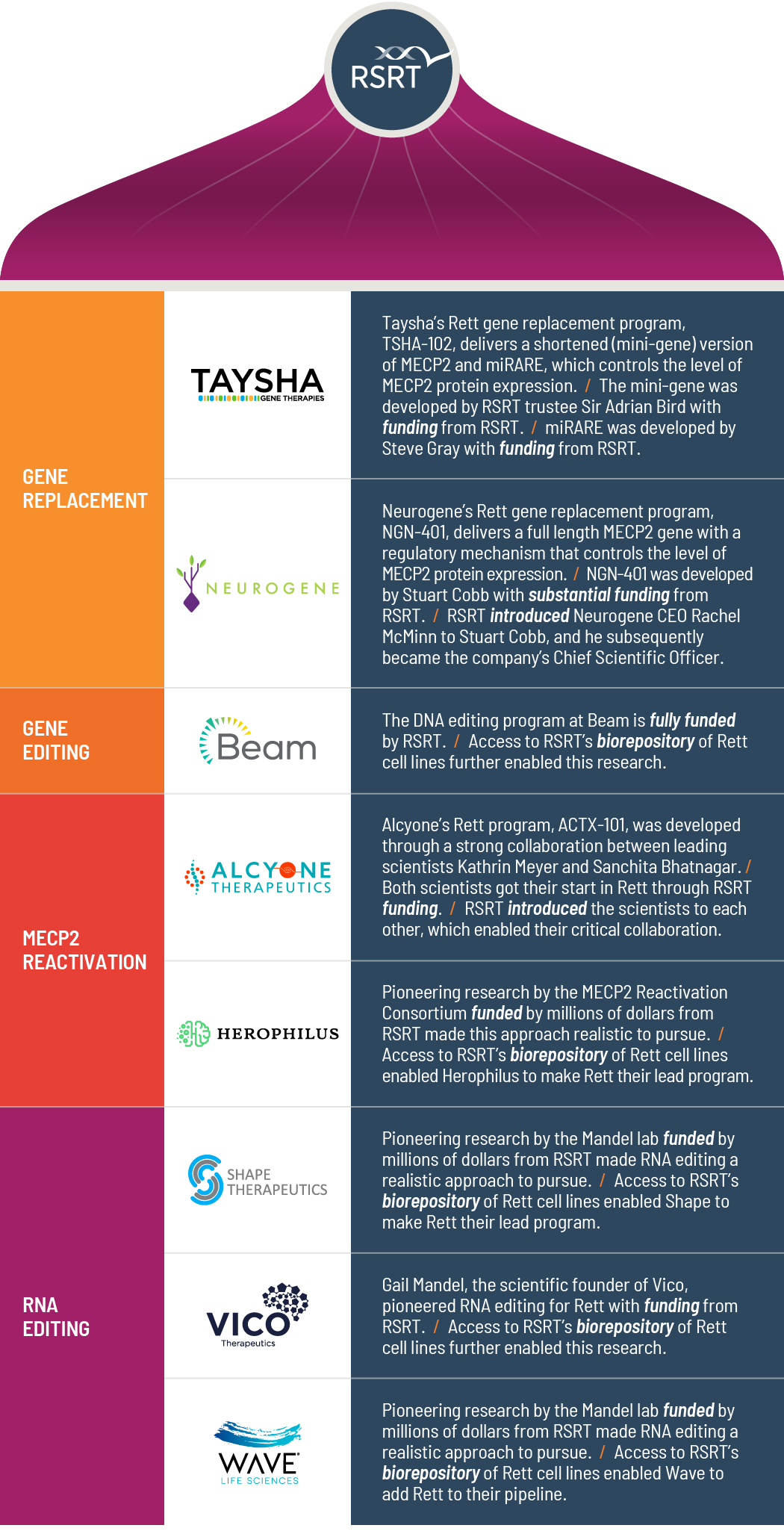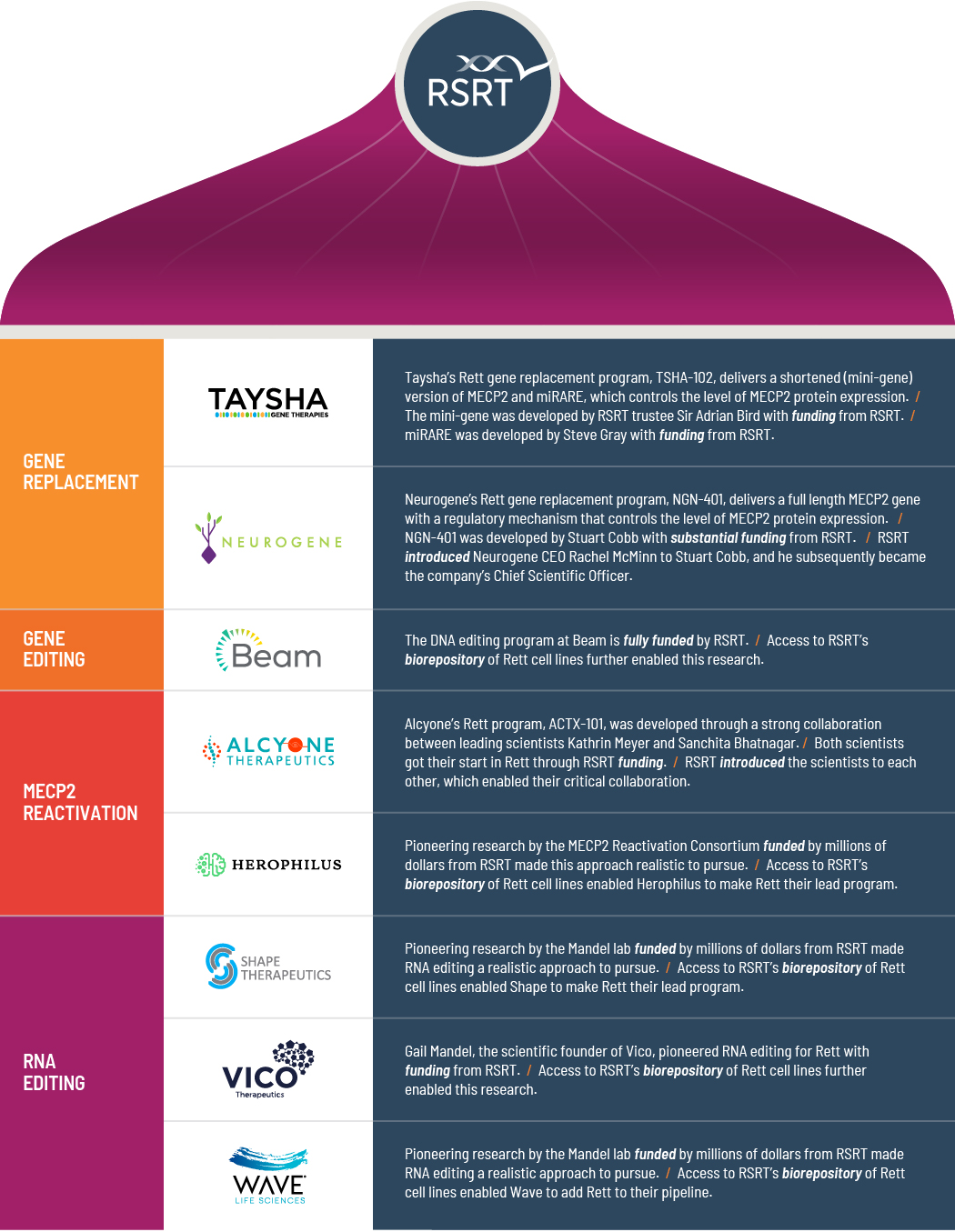 6 Curative Strategies
We have identified and are aggressively pursuing six genetic-based strategies that attack Rett at its genetic core. Driving multiple strategies forward in parallel mitigates risk.
16 Programs Attacking Rett at the Genetic Level
Because of RSRT's efforts there is an extensive pipeline of programs that target MECP2, the gene responsible for Rett syndrome when mutated, at biopharmaceutical companies and in academia.
Resources to Prepare Us for Clinical Trials
RSRT identifies critical gaps in research and fills them. We continue to develop resources to make Rett syndrome drug development more appealing and feasible for drug companies and to prepare for clinical trials that target the root cause of Rett. The following clinical initiatives will improve trial's effectiveness and efficiency:
Launched Outcome Measures and Biomarkers Initiative to develop assessments that are meaningful and acceptable to the FDA and to identify a biomarker that tracks with disease severity
Launched our first FDA-regulated trial to test ketamine
Created the RSRT Biorepository of valuable human Rett tissue samples (fibroblasts, lymphocytes, iPSC) that are available to academia and biopharma
Partnered with Ciitizen to create a digital natural history study for Rett
Developed the Rett Syndrome Global Registry to unify disparate data and provide it to biopharmaceutical partners
Adapted the ORCA, a communication assessment tool for Rett, for use in clinical trials
A Deeper Understanding of Rett Science for Drug Development
RSRT started by funding years of basic science, growing our collective knowledge base of Rett syndrome's molecular underpinnings. From scientific initiatives conceived of and nurtured by RSRT, we have:
Introduced and expanded novel therapeutic areas for Rett that did not exist before: gene replacement, genome editing, MECP2 reactivation, RNA editing, RNA trans-splicing
Created a next-generation gene therapy replacement product involving gene therapy pioneer, Jim Wilson
Cultivated, recruited, and funded world-class team at UMASS Medical School to edit DNA by replacing sections that contain 97% of all mutations
Recruited five world-renowned experts including an inventor of CRISPR to work on RNA editing
Developed three approaches to regulate MECP2 expression to prevent overexpression in gene therapy
Reshaped the scientific thinking of how MECP2 functions through our MECP2 Consortium, composed of an elite trio of scientists
Put RNA therapy on the map as a possible curative treatment after findings from the MECP2 Consortium led to the Mandel laboratory's discovery that it is possible to correct Rett mutations at the RNA stage
Launched Jackson Laboratories mouse model initiative
Research Funding
Accomplishments
Million
Awarded $66 million for our plan to cure Rett.
A list of research awards from 2008 to 2022.
A list of scientific publications funded by RSRT.